Commercial Concrete ADA Ramps in Hermitage, PA
Call Bayer Crete at (724) 307-8682 for an ADA-compliant concrete ramp for your business!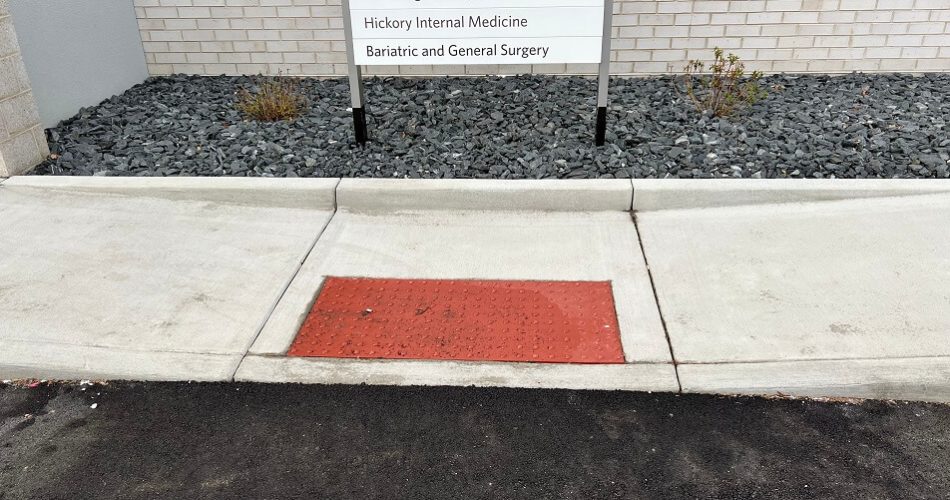 Making your business accessible to everyone is critical for success. By installing commercial ADA ramps, you can ensure that everyone has the opportunity to visit your business and experience what you have to offer. Our concrete ADA ramps are sturdy and reliable, making them perfect for any business.
Bayer Crete understands the importance of providing access for all customers and offers a variety of ADA-compliant ramps to choose from. If you're looking for a better permanent solution, we have you covered.
At Bayer Crete, we're experts in ADA compliance. That's why partnering with us is the best decision you'll make for your property's accessibility needs.
What Is an ADA Compliant Concrete Ramp?
ADA-compliant curb ramps are necessary for people with disabilities, as they provide an accessible route from street level to the sidewalk. Curb ramps must be made from concrete and ADA compliant to provide safe and easy access for everyone.
When looking for a curb ramp that meets ADA (Americans with Disabilities Act) standards, be sure to look for one with the following features:
A gradual slope will make it easy for those using wheelchairs or walkers to navigate the ramp.

No abrupt changes in level will prevent people from losing their balance.

The transitions will be flush with the curbing and sidewalk, allowing for an easy and smooth passage.

The ramp will have a consistent level as people approach it.

It will be at least 36 inches wide so that people can move through it with ease.

There will be markings or dome-shaped bumps on the ramp to indicate its presence.

The sides will be flared outwards with gentle slopes, making it easier for people to navigate.
By installing a ramp with these features, you can ensure a safe and easy passage for all who use it.
Bayer Crete has the expertise to help you with all of your commercial ADA ramp needs. Our ramps are designed to meet all state and federal requirements, so you can be sure that your property is up to code. Always consult a professional concrete contractor like Bayer Crete to ensure that your property meets ADA requirements.
Call Bayer Crete for an ADA-compliant concrete ramp for your business! Contact us today at (724) 307-8682 to schedule a consultation!
Concrete ramps are a popular choice for ADA compliance because they are durable and long-lasting. They can be used in any weather conditions and can withstand heavy traffic. In addition, concrete ramps are easy to maintain and keep clean.
If you're looking for the perfect permanent solution to meet all of your ADA needs, a concrete ramp is the best option. With a concrete ramp from Bayer Crete, you can ensure that your property will be accessible to all customers.
For more information on our commercial ADA ramps, please call us today! We would be happy to answer any questions you have and will help you find the perfect ramp for your business.
Choose Bayer Crete Concrete ADA Ramp Services
Bayer Crete is the obvious choice when choosing a company to install ADA compliant ramps. We have extensive knowledge and experience installing these features and ensuring that your property meets all ADA requirements. Our services include:
Concrete parking lot installation

ADA compliant ramp installation

Sustainable and eco-friendly options
For a trusted concrete company that can provide you with all of your ADA-compliant needs, look no further than Bayer Crete. We have the best experience and knowledge to get the job done right, and our commitment to quality and customer satisfaction is unmatched.
Schedule Your Concrete ADA Compliant Ramp Project
To ensure that your business is accessible to all, you can't go wrong with Bayer Crete's concrete ADA ramp services. Our team can help redesign your property to meet ADA standards, making it easier and safer for customers to access your goods and services. Don't hesitate to get in touch with us today at (724) 307-8682 to schedule your consultation – we can't wait to help make your business more inclusive for everyone!