Commercial Stamped Concrete in Hermitage, PA
Bayer Crete is your full-service concrete contractor in Hermitage, PA. We specialize in all types of stamped concrete projects, from driveways and patios to pool decks and sidewalks. Contact us today at (724) 307-8682 to schedule a consultation!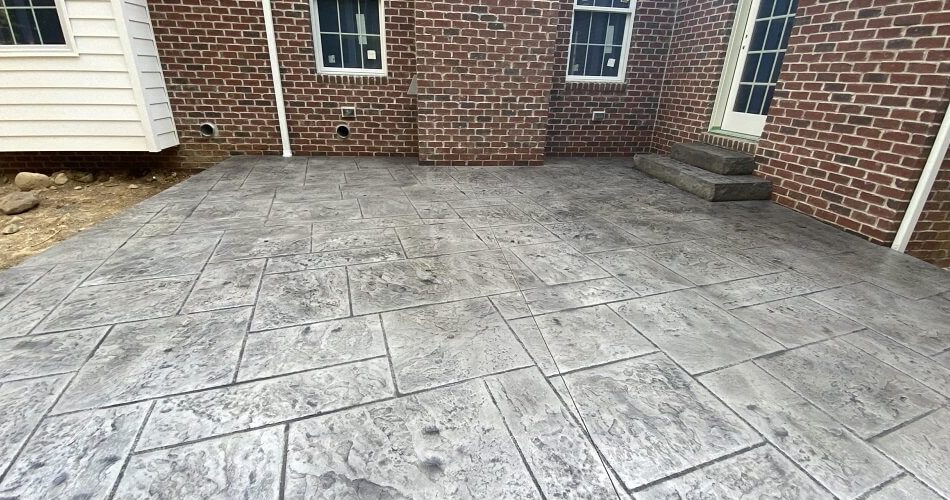 A professional concrete contractor can increase the curb appeal of your business by installing stamped concrete on a tired surface. Stamped concrete is a beautiful alternative to stone, wood, or brick.
We provide an excellent service that will increase the value and protect the beauty of your commercial space. Our top-of-the-line solutions can improve and restore your concrete surface. Contact us to learn more about stamped concrete in Hermitage, PA.
Popular Stamped Concrete Finishes
Stamped concrete is a decorative concrete that can mimic various high-end materials, such as brick, stone, or slate, making it a popular choice for Pennsylvania commercial owners looking to add interesting outdoor flooring to their businesses. Stamped concrete is durable and weather-resistant, making it an excellent option for outdoor spaces. And, because it doesn't require much maintenance, stamped concrete is a low-maintenance option that will save you lots of time and expenses in the long run.
When choosing to stamp your commercial concrete, it's essential to consider the many finishes available. Some of our most popular finishes are:
The high-quality texture of the ashlar slate provides a classic look that is popular for walkways.
Bayer Crete offers this beautiful seamless slate-style. It's the perfect option for patios, providing a sleek and elegant finish.
Bayer Crete's stamped concrete service can create the texture of natural boards and give your exterior flooring a realistic wooden appearance. Many commercial owners favor this type for its attractive look and rustic feel.
Cut cobblestone concrete stamps create a natural stone surface that looks perfect for walkways and driveways. The cobblestone texture is easy to use and adds a touch of character to any property.
Our concrete experts can help you achieve the perfect look for your businesses with limitless design options. At Bayer Crete, we understand that each property owner has distinct styles and preferences. That's why we offer custom stamp shapes to help create a surface that resembles your choice.
Bayer Crete stamped concrete offers the look of natural flagstone and is commonly used on pool decks and patios. Its durability and low maintenance quality make it a popular choice for many commercial owners.
Brick-stamped concrete can provide a cost-effective imitation of hand-laid brick. It is a timeless design that can be used in various locations.
There are many benefits to using stamped concrete in your commercial space. It can add value, and it can also drastically change the appearance of your surfaces. Some common places to install stamped concrete include:
Patios

Driveways

Sidewalks
Our stamped concrete can last longer than other building materials and needs less maintenance. Installation is faster and more cost-effective than laying down other materials.
Bayer Crete is your full-service concrete contractor in Hermitage, PA. Contact us today at (724) 307-8682 to schedule a consultation!
Contact Us To Discuss Your Project With Professionals
The first step in any of our projects is to contact us and discuss the details of your project. We'll make sure the project is planned out well according to your budget and preferences.
Design Your Dream Stamped Concrete Project
The possibilities are endless with stamped concrete. You can choose colors, textures, and patterns you desire to create a look that's perfect for your property. Our technicians will help you select a design that fits your vision and style.
The installation of stamped concrete floors can provide your business with a unique and beautiful look. Our contractors will prepare the surface of the concrete and repair any cracks or crumbling before installation begins. Once the surface is ready, we will install your dream stamped concrete floor.
Enjoy Your Beautiful Stamped Concrete Floors
Bayer Crete provides high-quality stamped concrete floors that are sure to impress. We'll be happy to confirm your satisfaction once the installation is complete. Our products come with a warranty, so you can be sure you're getting a quality product.
Get a Free Stamped Concrete Estimate
If you're looking to give your business' concrete a fresh new look, Bayer Crete is a perfect choice. We specialize in stamped concrete overlays, and we always provide our clients with personalized service and quality workmanship. Contact our customer service today to get a free estimate on your project and see how easy it is to transform your concrete with Bayer Crete. We're sure you won't be disappointed!
The lifespan of stamped concrete can last anywhere from 25 years if done correctly with the proper preparations, installation, and sealant. It's always best to have a professional concrete contractor complete the installation for lasting results.
Stamped concrete is perfect for your patio because it is durable, weather-resistant, and customizable. Stamped concrete is also a more cost-effective option than other materials. You can choose from various designs to create the perfect look for your patio.
Bayer Crete is a Hermitage, PA concrete specialist that prides itself on customer service and delivering an exceptional product. We continuously strive to build healthy relationships with our clients through our dedication to quality and service.
Do you want to explore some great options for stamped concrete in your business in the Hermitage, PA area? Contact Bayer Crete today at (724) 307-8682 to schedule your free consultation! We can help you choose the perfect design and materials for your needs.